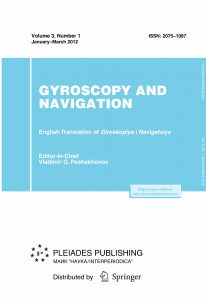 The Academy is a co-founder of the scientific and technical journal Giroskopiya i Navigatsiya (ISSN 0869-7035) and its English version, Gyroscopy and Navigation (ISSN 2075-1087).
Detailed information about the journal is presented on its page on the website of CSRI Elektropribor.
The journal materials published in Russian are available in the electronic format.
Materials of the English version are published by Springer.
Paper submission
Please read the guidelines for authors.
Besides, we have prepared a brief instruction on reviewing procedure.
To submit a new paper or to work with the one submitted before, please enter the author's office.
Reviewing
If you are a journal reviewer, please enter the reviewer's office to view papers and to submit reviews.
The guidelines for reviewers are available here.