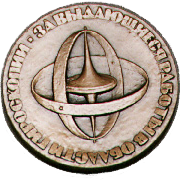 The prize named after Nikolay Ostryakov, the outstanding designer of marine gyroscopic devices, was established in 1946. Since 1996, the Prize is awarded by the Academy of Navigation and Motion Control.
The Ostryakov Prize is awarded to scientists and experts for prominent scientific achievements in design and research of gyroscopic and autonomous navigation aids for maritime, aerospace and ground-based applications.
The Prize is awarded biannually (every even year). The Prize (including the medal, diploma and money prize) is presented during the special ceremony at the Academy General Meeting.